Far Infrared.
Also known as Far Infrared Ray (FIR) or Heat Therapy.
History, Benefits and Cancer.
Far Infrared is the 'chi' energy in humans and animals, also emitted from sunlight. The intensity of Far Infrared produced by the human body constantly fluctuates. When its intensity is high, we feel healthy and are able to overcome ailments. When the Far Infrared (FIR) begins to decline, we are subject to disease and illness and tend to age more quickly. We can be exposed to Far Infrared heat for hours and it will never cause our skin to burn. Far Infrared heat is completely healthy and safe for all living things.
Far Infrared heat therapy is know to prevent, combat and kill cancerous cells.
What is Far Infrared therapy (FIR) and what does it do:
Far Infrared Ray are waves of energy, totally invisible to the naked eye, capable of penetrating deep into the human body, where they gently elevate the body's surface temperature and activate major bodily functions.
Benefits:
1) Far Infrared expands capillaries which stimulates increased blood flow, regeneration, circulation and oxygenation.
2) Far Infrared is excellent for detox. Scientists in Japan report that in the FIR treatment of clogged capillary vessels, heat expands the capillaries and then initiates the start of a process to dissolve hidden toxins. Far Infrared thereby promotes elimination of fats, chemicals and toxins from the blood: Poisons, carcinogenic heavy metals - toxic substances from food processing - lactic acid, free fatty acids, and subcutaneous fat associated with aging and fatigue - excess sodium associated with hypertension - and uric acid which causes pain. Furthermore, if sebaceous glands are activated, accumulated cosmetics in pores can be eliminated through the skin (sweat and oil glands) rather than by the kidneys.
3) Far Infrared stimulates enzyme activity and metabolism - One hour under the Hotouse improves metabolism. FIR heat aids in breaking down cellulite - trapped water, fat and waste.
4) Far Infrared may induce the killing of varied pathogenic (disease causing) bacteria, viruses, fungi and parasites.
5) Far Infrared promotes rebuilding of injured tissue by having a positive effect on the fibroblasts (connective tissue cells necessary for the repair of injury). Furthermore, it increases growth of cells, DNA syntheses, and protein synthesis all necessary during tissue repair and regeneration. Excellent for healing burns, scar tissue and skin problems.
6) Far Infrared relieves nervous tension and relax autoneuro muscles thereby helping the body make the most of its intended healing abilities. FIR reduces soreness on nerve endings and muscle spasms, as muscle fibers are heated.
7) Far Infrared strengthens the Immune System by stimulating increased production of white blood cells (leukocytes) by the bone marrow and killer T-cells by the thymus.
8) Far Infrared strengthens the Cardiovascular System by causing heart rate and cardiac output increase, and diastolic blood pressure decrease - Extensive research by NASA in the early 1980's led to the conclusion that far infrared stimulation of cardiovascular function would be the ideal way to maintain cardiovascular conditioning in American astronauts during long space flight.
haa setakat tuh paham ke idak..
Far Infrared Technology 2009:
In the last forty years, scientific evidence has found that deep heat can enhance the beneficial effects of healing therapy. Scientists have looked at ways of how to develop more effective forms of thermal treatment that target specific areas and enable deep heat penetration. Research and development in the sixties, notably most extensively in Japan, introduced the Far Infrared Ray (FIR) thermal technology. This revolutionized thermal technology to an effective, safe, natural, hygienic, and efficient approach to thermal treatment. Today there are multiple health and medical professionals internationally who rehabilitate and treat a multitude of physical problems by using heat therapy. Relief of sports injuries via thermal therapy is just one example of treatment. Cancer is a most significant other.
so basically lah kan..
why we wear PB is due to the above reasons..
we want a healthy living body..
we pray to Allah supaya dijauhkan dari penyakit
dan kita juga kena berusaha ke arah itu
so daripada kita nak kena pi carik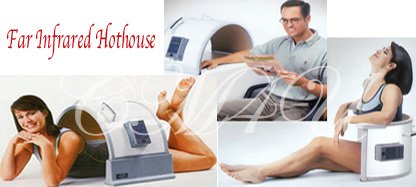 benda alah nih yg reganya

US$899.00

-

US$999.00
(korang convert sendirik)
ke nak beli PB yang jauh lebih murah
(tambah dengan promosi sekarang)
lagi senang nak sarung kan..
pakai jer pagi then balik sekolah or kerja dah boleh buang..
hehe..
very simple
source on FIR : http://www.chimachine4u.com/hothouse.html
kalau ada yang berminat nak dapatkan PB/nak tanya apa2 tentang PB dengan iena do email me at inz8799@yahoo.com or sms me at 0194795730 i really hope to share with u something about this miracle corset